I planned to update this web page frequently, but like a New Year's resolution, my intentions diminished with time and failure.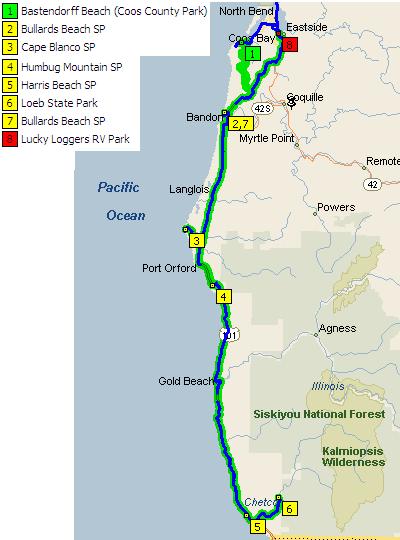 I last left this narrative, if that's what it is, when I was settled in as Camp Host at Coos County's Bastendorff Park for the winter. (All locations I'll be mentioning are in Oregon.) But Coos County changed their minds and decided not to have any winter hosts. I also had some financial pressures I won't go into that messed things up considerably, but have since been resolved.
Summary. I spent November traveling down the Oregon Coast, visiting the State Parks along the way, to be Cabin Host at Loeb State Park near Brookings for the month of December. It was very quiet and wet. In January, I was a Relief Host at Bullards State Park, near Bandon, meaning I was sometimes a Greeting Host and sometimes a Yurt Maintenance Host, depending on who had the day off. Lovely as the Oregon Coast is, I'm afraid it's a bit short on things like cell phone reception, internet access and shopping. I spent February and March paying for an RV spot in Coos Bay, with wireless internet and within walking distance of a Safeway, but also next to train tracks.
Then I went on to Eugene, where I wanted to visit friends working on starting a veterinarian Spay/Neuter clinic, the Willamette Animal Guild. I then waited on weather to allow me to get over the Santiam Pass into Central Oregon, where I could visit friends running another Spay/Neuter clinic, SNIP House. Today I'm at Sun Rocks RV Park, about 13 miles outside of Prineville and SNIP.